Orient Manufacturing & Trading Co. OMATRA was established in 1977 in the Kingdom of Saudi Arabia. Its main areas of specialization are rooted in the fields of mechanical works, trucks, transportation automotive vehicles, buses and industrial supplies and equipments.
Today OMATRA is extended throughout the Middle east with outlets in Beirut, Iraq and Syria while still looking to expand.
The Company's area of activity is the import and marketing of commercial & military vehicles as well as construction equipment's, with parts and service centers as well as tires for all kind of vehicles all from Italian make.
OMATRA maintains a large central parts depot with full availability for all equipment's marketed and service centers providing top of the line maintenance follow-up.
The Company's management consists of a highly educated, motivated, dedicated young/middle aged team of experts, all with extensive experience in their respective field providing our customers with the best support possible reflecting a considerable amount of professionalism and skills when interacting with all sectors of the economy.
Teamwork is reflected in each day to day activity; this is the key to the continuous growth and enormous success of the Company. It is also the fundamental reason why this Company has ensured a strong market position for itself over the past 20 years, OMATRA employees come from many regions and from different cultural backgrounds allowing it to adapt to its changing environment.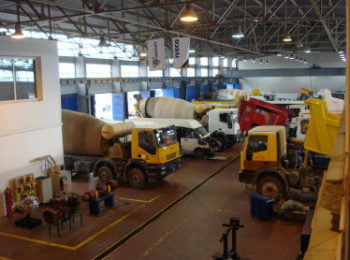 We are specialized in customized projects, all our products can be tailor made upon our end user request.
Our reliable and solid partnerships with major European suppliers allow us to offer our clients the best economical solution.
Problem solving is our expertise, dedicated to our clients in order to find the best solutions for their most complex inquiries (ergonomic, feasibility, technicality…)
Spare parts and maintenance we provide, along with equipment onsite and offsite training, We insure high levels of spare parts availability and high level of servicing meeting with the latest European dealership standards.
Our products are the most advanced technologically and used by the biggest agencies and companies worldwide.